osTicket Hosting
We support osTicket. What is osTicket?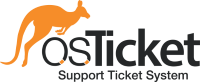 osTicket is a widely-used open source support ticket system. Plain and simple it is a lightweight feature packed support ticket tool written mainly using PHP scripting language. An attractive alternative to higher-cost and more complex customer support systems; simple, lightweight and easy to setup and use. The best part is, it's completely free.

osTicket seamlessly integrates all tickets created via email and web-based form with a simple web interface. Easily manage, organize and archive all your support requests. Your clients will also be able to view tickets status and history online. It also features email piping, pop3 login, unlimited email addresses, admin/staff/user panels, avoid autoresponder loops, limit maximun tickets user can have opened, accept attachments and limit size, pager alerts for admin.